Virtual Symposium:
Social Practice in Art, Research and Education: Professional Dialogues
31 March 2018
Centre for Rural Creaitivty, University of the Highlands and Islands, Shetland College
​
Artists, cultural professionals, academics and students connected virtually from more than twelve locations including Shetland, Orkney, Uist, Elgin, London and Ireland, to debate how socially engaged arts practice can help to build a better society. The title of our presentation was: Northern Exchange: Reciprocity, Art and Generosity
Bolungarvík: Examining the sense of place through artistic practice
February 2017
Gallery Hämärä, Rovaniemi, Finland
​
We exhibited work entitled 'Northern Exchange: Iceland, Scotland and Finland' created in collaboration with Ásthildur Jónsdóttir and Elina Härkönen, comprising four themed excerpts from interviews and two films.
Relate North 2016: Practising Place: Heritage, Art and Design
for Creative Communities
November 2016
The Gutters' Hut and Mareel Feature Space, Lerwick, Shetland
​
We exhibited collaborative work from the project Northern Exchange: Cold War Histories and Nuclear Futures undertaken in Iceland during 2016. We also presented a paper in the symposium. ​Read more....
​
​
Pohjoisen poikia, maailman matkoja.
Taiteen ja tieteen kiertokulut – Timo Jokelan juhlakatalogi
August 2016
The University of Lapland Galleries
​
This exhibittion, Northern boys, world trips. Art and science of cycles, was a tribute to artist and professor,Timo Jokela, on the occasion of his 60th birthday. We exhibited photographs from the project Recount realised in Shetland in 2013 and previously exhibited in Northern Exchange at Timespan.
Iceland, Northern Exchange: Cold War Histories and Nuclear Futures
​
This project is made possible by the award of a Research Incentive Grant from The Carnegie Trust followed by a further grant from the Visual Arts and Crafts Award from Shetland Arts Development Agency and Creative Scotland.
Relate North 2015: Culture, Community & Communication
November - December 2015
Kimura Art Gallery, University of Alaska, Anchorage
​
The works in the exhibition were wide ranging in their approaches to cultural diversity, community outreach projects and the communicative role the arts play in northern climes. We exhibited work that brought together the thoughts we collected from people in Russia, Scotland, Shetland and North America. We also presented a paper in the symposium. Read more....
​
​
"Art and Engagement with the Cold War in Shetland"
Roxane Permar and Susan Timmins
Relate North: Engagement, Art and Representation, edited by Timo Jokela & Glen Coutts,
Lapland University Press, November 2014
The first international peer-reviewed publication produced as part of the work of the UArctic Thematic Network on Arctic Sustainable Arts and Design (ASAD), Relate North 2014 draws on studies from Canada, Finland, Iceland, Norway, Russia & Scotland. Our article, which begins on page 34, considers the artistic strategies we have employed in our on-going collaboration to investigate Shetland's strategic contribution to the Cold War, using two projects, Countdown (2012) and Recount (2013).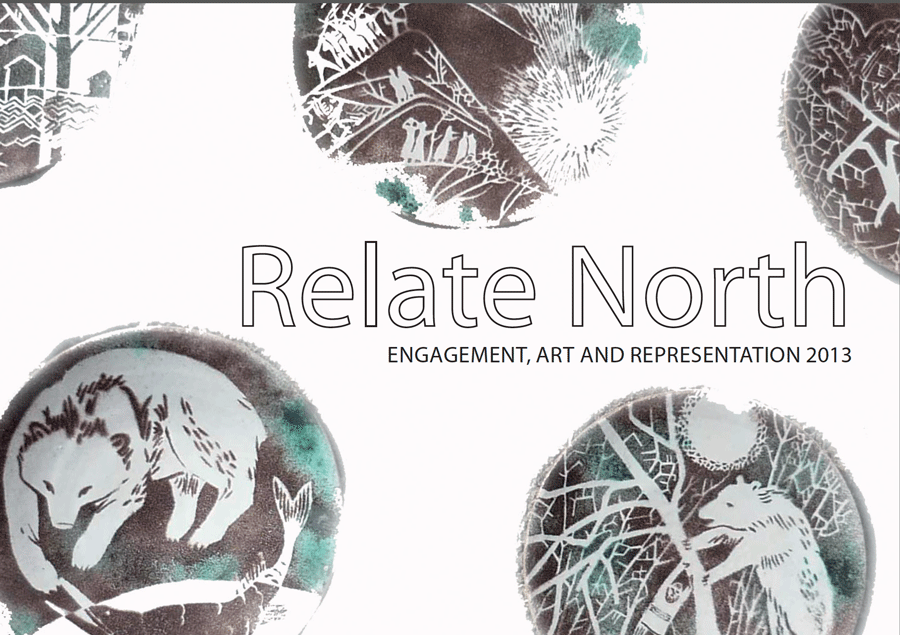 Relate North: Engagement, Art and Representation
November, 2013
Nordic House, Reykjavik, Iceland
Organisers: Iceland Academy of the Arts, Reykjavik, Iceland; University of Lapland, Rovaniemi, Finland
Curator:
Asthildur Jonsdottir
Countdown

was exhibited in this group exhibition comprising the film and photographs. See page 32 of the catalogue. We also gave a presentation at the conference which we developed into the article published in

Relate North 2014: Engagement, Art and Representation

.
Northern Exchange
February - April 2015
Timespan, Helmsdale, Scotland
Northern Exchange investigated the legacy of the Cold War in Northern Scotland as it exists both physically in the landscape, and in memory. Bringing together work across sculpture, photography, film, and sound, Northern Exchange encourages a different understanding of Scotland's remote north through a consideration of the area's historic significance as a new Front Line for defence against the perceived Soviet threat in the Cold war era. The exhibition title references both nuclear exchange, a term used to describe the firing of nuclear weapons, but also the exchange of memories and recollections that are at the centre of the artists' collaborative work.
Artists' Bursary
Creative Scotland
​
We were awarded a Creative Scotland Artist Bursary to support the research and development of a new body of work addressing issues related to the Cold War that bridge both sides of the Iron Curtain, Scotland and Russia.
Aesthetica Short Film Festival
November, 2013
York, England, UK
Countdown was selected for this BAFTA accredited Aesthetica Short Film Festival (ASFF) is a celebration of independent film, and an outlet for championing and supporting short filmmaking. The programme offers a rich selection of films from across the world, in genres including advertising, artists' film, music video, drama and documentary. The 2013 festival screened 300 films from 36 countries across 15 locations spanning York's historic and contemporary spaces.
Film al Fresco
July - August, 2013
The Galleries at Moore, Philadelphia, USA
Countdown was selected forFilm al Fresco 2013, a juried competition and outdoor summer film & video series that showcases the work of independent film & video-makers. The series expands The Galleries at Moore's commitment to its role as a venue for exhibitions and programs that focus on innovative ideas in contemporary art and visual culture.
Luminate Commission
October, 2013
Recount, Shetland, Scotland, UK
Recount was awarded one of two 2012 Luminate Commissions. Luminate, Scotland's creative ageing festival, is held from 1st to 31st October across Scotland each year. The festival brings together older people and those from across the generations to celebrate our creativity as we age, share stories of ageing and explore what growing older means to all of us. There is growing evidence of the importance of creative activities to our wellbeing as we age, and Luminate aims to shine a light on the many opportunities that exist across Scotland. Recount is featured on page 64 of the 2012 Luminate programme.
Numbers
January - March, 2013
Bonhoga Gallery, Shetland, UK
The film and video installation, Countdown, was selected for Numbers, a group show by Veer North, the most northerly group of visual artists in the UK. Set up in 2003, it is a professional association providing a supportive network in Shetland for visual artists of all disciplines, while encouraging debate and developing opportunities both within Shetland and beyond. They have established links with artists and organisations throughout Northern Europe, Faroe and Iceland and have exhibited widely.